What shampoo is best for my hair?
Dry shampoos, clarifying shampoo, sulphate-free shampoo…there are so many options out there it can leave you in a daze. It's easy to fall into the trap of buying whatever looks the best or smells great. An average woman in the UK will spend on average £751 a year on their hair so buying the right shampoo is imperative to keep your hair looking the same as the day you had left the salon.
Before we get to the recommendations, it helps to understand why it's so important to buy the right products for your hair type. Just like your skin, everyone's hair type has its own separate sets of concerns, For example, with straight hair, you probably want some volume. Whereas curly hair you want to avoid frizz. To achieve both these looks the texture, weight and key ingredients will be completely different. This is exactly why you need to find a product that does the right things, rather than aggravate your hair concern.
Shampoo for Fine and Straight Hair
When it comes to fine hair, you want to make sure your hair is left 100% clean and residue-free. Making sure that your hair and follicles are left free which can be a major cause of thinning hair and hair loss.
Wow Color colour security shampoo is the ideal shampoo and can be used on all hair types of hair including coloured hair.
It is keratin safe which means this shampoo is safe to use on extensions.
It also has the added value of being sulphate free, contains no silicones and is cruelty and gluten-free.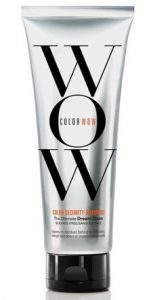 When it comes to getting more out of your hair BC COLLAGEN VOLUME BOOST comes in a weightless formation that cares and boosts at the same time as giving an amazing root lift. Hair can feel fuller for up to 3 days with 100% improvement in volume, stability, and fullness. Collagen volume boost offers body, bounce and care to limp hair. Without overburdening it but instead infusing every hair strand with moisture, shine and fullness. This shampoo gently cleanses the hair and scalp and prevents static.

Although we have many sulphate-free shampoos as mentioned above; Wow colour shampoo, and Schwarzkopf BC colour freeze shampoo. We also have Olaplex number 4 shampoo, which is an amazing sulphate free shampoo.
No 4 shampoo repairs and protects the hair from everyday stresses. It works by relinking broken bonds leaving the hair easier to manage, shinier and healthier with each use. It is proven to reduce breakage and strengthen ALL types of hair, contrary to what people think this shampoo is great on every type of hair.
Works well with our Brazilian blow-dries, what more can a girl want out of a shampoo!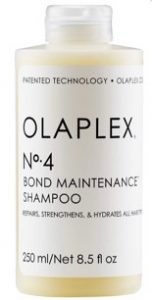 SCHWARTZKOPF goodbye yellow shampoo is an extremely rich, anti-yellow shampoo formulated for grey, super lightened or discoloured hair. Featuring strong blue and purple pigments, this intense shampoo tones down unwanted yellow and neutralising brassy tones. Boosting a pH4.5, this provides long-lasting results. Free from SLS/SLES sulphates.

Shampoo for Coloured Hair
One thing everyone wants from their colour shampoo and that's for their colour to stay true for as long as they can. This is where Schwarzkopf BC COLOUR FREEZE comes into use. With a pH of 4.5, it helps to seals the surface of coloured hair but most importantly freezes the colour pigment deep inside the hair matrix for the ultimate colour perfection.
This shampoo gently yet effectively cleanses coloured hair whilst protecting the hair structure, preventing colour fade as if you had just stepped out of the salon.
Again sulphate-free amazing for those sensitive clients.

Your hair can be damaged by many things, ranging from chemical treatments or mechanical processes but when your hair is damaged it loses its healthy-looking appearance and its shine. With the Schwarzkopf BC PEPTIDE REPAIR RESCUE shampoo, we can reverse 3 years of damage in one application. This shampoo works by gently cleansing and preparing the hair by improving the elasticity and smoothing the surface of the hair making it more manageable.it also adding additional moisture and helps to restore the inner structure of the hair.

Is your hair feeling dry? Is it sucking up the conditioners or hair masks, then this shampoo is for you! Schwarzkopf BC HYALURONIC MOISTURE KICK helps to rebalance and delivers optimum levels of moisture to even the driest hair to improve the resilience, increase shine and eliminate static. This is great for coarse, brittle, curly, wavy and slightly porous hair. Gently cleanses the hair and helps with dehydration of the hair. This is silicone-free. And delivers lightweight medium care.